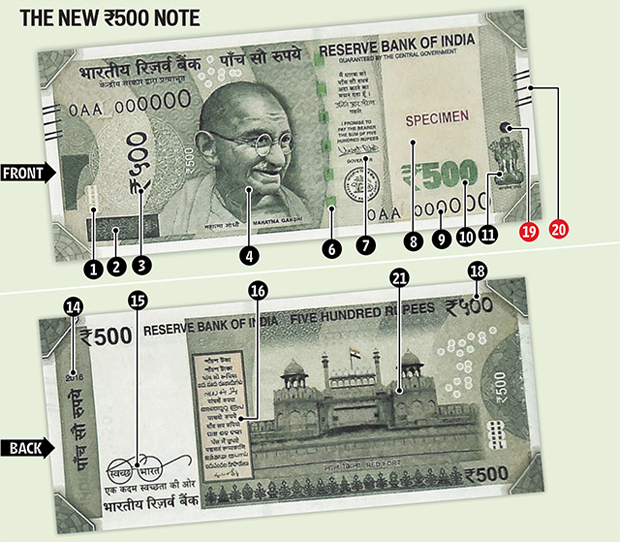 The Graphical Representation Of New Rs 2000 And Rs 500
On 8th November 2016, Indian Prime Minister Mr. Narendra Modi announced that Rs 500 and Rs 1000 banknotes would be demonetized from the financial system from that midnight mentioning that this was a part of crackdown on the rampant corruption. After that, the Reserve Bank Of India introduced banknotes of new designs in the denomination & Graphical Representation of Rs 500 and Rs 2000 as part of the Mahatma Gandhi (New) Series and the banks started to issue these new notes from November 10, Thursday.
The new Graphical Representation denomination of Rs 2000 note has the motif of Mangalyaan on the reverse side of the note, which depicts the first venture of India in interplanetary space. Size of this new note is 66mm x 166mm. Magenta is the base color of this note and it has some other geometric patterns, designs aligning with the overall color scheme both on reverse and obverse.
Now let's have a look at some of the salient features of the Rs 2000 note:
Obverse (Front):
See-through register along with Graphical Representation denominational numeral 2000 can be seen while the note is held against the light
Latent image with denominational numeral 2000 can be seen while the note is held at 45º angle at the eye level
The portrait of Mahatma Gandhi is there in the center of the note
Micro letters "2000" and "RBI"
Denominational numeral 2000 scripted in Devanagari
Electrotype (2000)watermarks and portrait of Mahatma Gandhi
RBI emblem, Governor's signature with Promise Clause and Guarantee Clause towards right
Number panel with numerals increasing from small to big is located on the bottom right side and top left side of the note
The emblem of Ashoka Pillar is on the right side
Reverse (Back)
SWACHH BHARAT logo along with slogan
Year of printing
Language panel towards the note's center part
The Motif of Mangalyan, which reflects the first venture of India in the interplanetary space
For visually impaired
7 angular bleed lines on both left and right side in raised print
On the right, there is a horizontal rectangle with Rs. 2000 in raised print
Raised printing of Ashoka Pillar emblem bases, Mahatma Gandhi portrait and identification mark
Rs 500 note of the new series is completely different from the earlier one in color, size, design elements, theme and location of the security features. Size of the new note is 63mm x 150mm and the color is stone grey. The new theme in the new note is Red Fort- the Indian heritage site. Now let's have a look at some of the salient features of the Rs 500 note:
Obverse (Front):
See-through register in the Graphical Representation denominational numeral
The denomination numeral in scripted in Devanagari
Ashoka pillar emblem placed on the right
The color of windowed security thread changes from green to blue while the note is titled electrotype watermarks and portrait
RBI emblem, Governor's signature with promise clause and Guarantee clauses titled towards right
Reverse (Back)
Year of printing on the left part of note
Swachh Bharat logo along with slogan
Language panel towards the note's center part
An image of Red Fort- the Indian heritage site with Indian flag
For visually impaired
Raised print of circle with Rs. 500 on the right
Five bleed lines on right and left in raised print