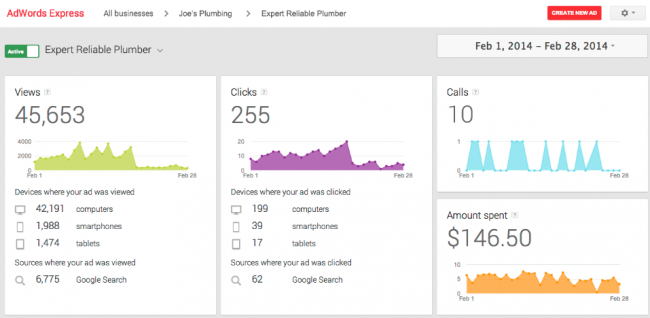 Google Launched AdWords Express : logodesignservices
Google has launched Google AdWords Express on 2011, which is promoted as an easier and simplified version of AdWords for those smaller businesses, which like to be found in the paid search results, but don't have enough resources or time to dive into Google AdWords. Basically, AdWords Express works as a "lite" version of AdWords. Besides, this also works as an easy and quick way for the online businesses to get the businesses online.
According to Google, setting up an account in AdWords Express will just take 5 minutes. It just needs basic information like as the category of business, budget, ad heading and description and choosing to send the users to the landing page on the site or to the Google Place page. But in case the business owner doesn't have a Google Places page, then AdWords Express can help the business owner to set this up.
So, what are the benefits? AdWords Express mainly encourages small business owners, who were hesitant previously to start one PPC campaign by simplifying the entire startup process and decreasing the requirement of ongoing campaign management a lot.
Here are some other benefits of Google AdWords Express:
• Targeting: Google would target the ads automatically on the basis of geographical location. So, there is no requirement of worrying about segmenting by state, region or country. Besides, here Google will also target the ads to that category, which you specify.
• Ease of use: The best part of using Google AdWords Express is that the ads can get live just a few minutes of setting it up. There is even no requirement of starting bid prices or thinking about the keywords. Therefore, this works as a big timesaver. Besides, here Google will recommend a monthly budget on the basis of the average search volume and therefore there is no requirement of worrying about the market size.
• Automation: With Google AdWords Express, it is time to say goodbye to the manual keyword analysis. Besides, there is also no requirement of worrying about changing the bids as here Google will place the ad automatically on the basis of the category selection and will also make sure that the ads are displayed on relevant section.